Ken Lawrence

|
Lead Pastor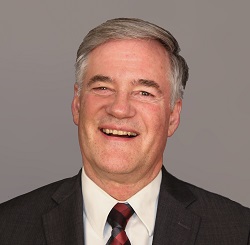 Ken attended Houghton College, where he first felt led by the Lord to consider pastoral ministry. It was also at Houghton when the Lord brought Connie into his life. Ken graduated from Houghton in 1973 and that fall, began seminary at Gordon-Conwell Theological Seminary in South Hamilton, Massachusetts. In 1974, he and Connie were married.
After graduating from Gordon-Conwell in the spring of 1976, Ken and Connie were led to Hampton Falls to assume pastoral responsibilities. While pastor here, Ken earned his Doctor of Ministry degree in 1987, also from Gordon-Conwell.
Connie's interest in education has taken her from public school to preschool to Portsmouth Christian Academy, in Dover, NH. Since coming on staff at the academy she has spent several years teaching, several years as principal, two years as headmaster, and is presently the Dean of Academics at the school. Connie has earned a Master's Degree from Cambridge College and her Doctorate from Nova University.
Connie and Ken have three boys. Their oldest, Derek, was born in 1978 and is married to Julie. Together they have one daughter and live now in Exeter. Derek is on staff as the choir director at the church and is employed with Allogy, a provider of software development services.
Their second son, Ryan, was born in 1980 and is now living in New York City. He is also married to a Julie. Ryan works as a psychiatrist and is head of the psychiatry emergency department at New York Presbyterian Hospital. They have one son.
And their youngest son, Wesley, was born in 1983 and is now living in the Houston area. He is a voice professor at Sam Houston University and music director at the Spring Cyprus Presbyterian Church in Texas.
Ken can be reached at:
email: klawrence@hffbc.org
church: 603.926.3724 x 11