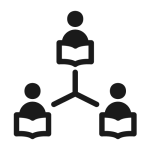 A small group is a pocket of people within the church who sincerely desire to grow in their Christian walk together. They are safe places for people to grow in their love and understanding of the Bible together with a smaller group of believers who are committed to loving and serving each other.
WHY SHOULD I JOIN A SMALL GROUP?
Though there are different kinds of small groups, a healthy group achieves a balance of the following 3 objectives. These may be weighted differently in each group, but they are all present.
CONNECTION
To each other:
Fostering an open and safe place for members to be transparent about the struggles and joys of life.
Committing to pray for and serve each other throughout the week as the needs arise.

To God:
Worshipping God together through psalms, hymns, spiritual songs, prayer, meditation, Scripture reading and, sometimes, silence.
FORMATION
Knowing: Shepherding each member's understanding of who they are and what God has called them to be in light of biblical truths.
Growing: Giving each person opportunities to take practical steps of faith, discover and use their spiritual gifts and practice obedience to Scriptural imperatives.
MISSION
Going:
Focusing the group on the spreading God's glory in the community, region and world (for example, praying for unbelieving friends, adopting a missionary, inviting unbelieving friends to a neutral event, etc…)
Looking for ways of serving together in the church and community of which we are a part (cooking meals, visiting shut-ins, helping assist with an ongoing ministry within the church, etc…)
If you would like to join a group please email Pastor Caleb Davis @
cdavis@hffbc.org
or call 603-926-3724.