Church Camp 2022
Camp is fully booked and registrations are closed for 2022
See what Church Camp is all about!
Who:
Anyone connected to HFFBC Church Family
3 days of fun and fellowship in the beautiful setting of Camp Sentinel
3 large group sessions based on a common theme each year
Upgraded food and food menu
Fun Saturday night activities for your whole family (past years have included a Saturday Night Talent Show, Minute-To-Win-It Games, Water Olympics, etc.)
Full access to waterfront activities: swimming, canoes, paddle boats, kayaks, water bongo
Adventure Programs: Giant swing, archery, zip-line, climbing wall
Friday, August 12th through Sunday, August 14th 2022
Why:

Grow deeper in our relationship with God and with our church family in sustained life-on-life interactions that a longer weekend provides
Rev. Dan Odom.

Dan served as the Pastor of Education at HFFBC from 2007 – 21012.

Currently serving as the Ministering Pastor at Harvest Bible Church in Gilmanton Iron Works, NH.

In addition to pastoring, he loves to golf, read, and the New England Patriots
"The Family: Snapshots of Forgiveness"

Session One: "The Portrait: What A Forgiver Looks Like"
Session Two: "The Video: Seeing Forgiveness in Motion"
Session Three: "The Selfie: What Motivates Forgiveness"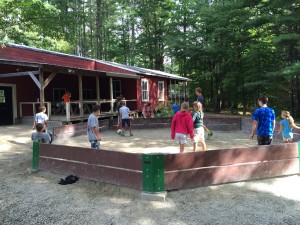 Cost
HFFBC subsidizes the cost of the weekend by reducing the price Camp Sentinel charges
Family (2 Adults/ 2 youth): $275.00
Additional youths (in the same family): $45.00
Infants (0-2): No charge
Single Adults: $115.00
Youth (3-17 or still in high school): $65.00
Saturday Only: Adult $55.00/Child $35.00
Cabins are booked!!

Pines Camp Ground is still available!! Camp Ground offers a quiet and relaxing camping experience for individuals and families along the water front. We have reserved 8 – 9 camp sites; 3 with power.
if you would prefer to stay in the Pines Camp ground please indicate by clicking that box on the registration form.
Cabins are booked for this summer. Reserve your space at Pines Campground in either their RV, campers or tenting.