Save the dates – August 9 – 11, 2024
Who:
Anyone connected to HFFBC Church Family
3 days of fun and fellowship in the beautiful setting of Camp Sentinel
3 large group sessions based on a common theme each year
Upgraded food and food menu
Fun Saturday night activities for your whole family (past years have included a Saturday Night Talent Show, Minute-To-Win-It Games, Water Olympics, etc.)
Full access to waterfront activities: swimming, canoes, paddle boats, kayaks, water bongo
Adventure Programs: Giant swing, archery, zip-line, climbing wall
Friday, August 11th through Sunday, August 13th 2023
Why:

Grow deeper in our relationship with God and with our church family in sustained life-on-life interactions that a longer weekend provides
1 Corinthians 13 – "Love Is…"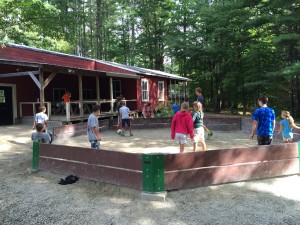 2024 Cost – TBD
Note that the pricing model has been changed and simplified
While there has been a small price increase HFFBC subsidizes the cost of the weekend by reducing the price Camp Sentinel charges to keep camp affordable
There are 3 options this year that you can select:
The Cabins. There are 16 cabins that sleep 8 – 10 people.

The Pines Camping area. There are 8 camp sites. Each camp site can accommodate 2 tents.

We also have 6 tent spaces available near the upper cabin area (Not the Pines Camping Area). This is just ground space to put a tent with shared fire pit and no table.
Spaces fill quickly so register early!!
The cabins are wicked popular. We booked them all out last year and had to turn folks away. One way to maximize the number of people we can accommodate in the cabins is to consider cabin sharing with folks you know. There will be an opportunity to specify folks you would like to cabin share with when you register.
TWe are using Realm to register for Church Camp this year. There are 2 options.
If you have a Realm Log in to Realm

Click on events
Click on Church Camp and follow the prompts
Payment can be made by credit/debit card in Realm
Realm will track balances and you can pay any remaining balance thru Realm with a credit card
You can optionally pay by check made payable to HFFBC (memo-Church Camp) and dropped of at the church office Attn: Bobbi Jo.

Use the link and follow the prompts
Registration Deadline: TBD

Final Payment is due: TBD

Financial help is available!

If you have questions please contact Bobbi Jo @ bstone@hffbc.org or 603-926-3724.
Tentative Camp Schedule:
Friday:
1:00 – 5:30pm Arrival, settle-in and free time!
6:00PM Dinner!

8:00pm

Session I: "Love Is Patient & Kind"

Worship and Praise

Welcome/ INTRO
9:00am Breakfast
10:00am

Worship and Praise

Session II:

"Love

Rejoices in Truth

"

12:00pm Lunch
1 – 5:00PM Free Time
5:30pm Dinner
7:00pm

Family

Variety

Night

/

ContraDancing

9:00pm

Snacks and Fire
9:00am Breakfast
10:00am

Worship and praise

Session III: "Love Never Ends"

11:30am

Family devo's

12:00pm

Lunch

1:00pm Leave for Home